Another of us gone too soon. Thank you to Claudia Margedant Schleuter for letting me know. I missed this because at the time we were out of town for over a week, so I didn't see the obits for awhile. Mary Ann lived right across from St. Joseph Hospital and was part of our Brownie and Girl Scout activities. She was a good friend to many even back then. May she rest in peace and love.
Obituary for Mary Ann Trombley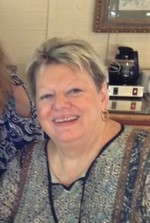 On Friday, July 29, 2018, Mary Ann Trombley, devoted wife, mother, grandmother and friend to all, passed away suddenly. Mary Ann will be forever remembered by her husband and best friend Ray, son Greg (Tricia), adoring grandsons (and the light of her life), Luke and Liam, sister, Cindy, in-laws, cousins, nephews, niece and countless friends.
She'll be remembered for her huge smile, tight hugs, amazing laugh, kindness, generosity, love for her family and the ability to make most anyone she came into contact with feel like the most special person in the room.
Visitation will be held on Thursday, August 9, from 5-8pm., at Bopp Chapel in Kirkwood and a short service will be held on Friday, August 10, at 12:45pm at Jefferson Barracks National Cemetery with lunch and celebration of her amazing life to follow at Mike Duffy's in Kirkwood.